Hockey Tournaments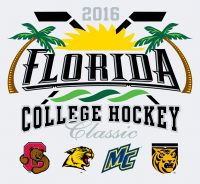 17TH ANNUAL FLORIDA INTERNATIONAL HOLIDAY INVITATIONAL DECEMBER 26TH-31ST 2016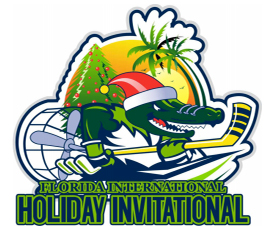 ****2016 Florida Holiday Invitational****
The Florida International Holiday Invitational is for teams that are looking for the best competition possible. This hockey tournament offers Squirt – Midget Major A & AA levels, and features 84 teams making it the largest ever in the Southeast District. Having a 4 game guarantee with a possible 5th or 6th possible makes the trip worth it. This hockey tournament markets for out of state teams.  The winners receive an automatic invitation next year to defend the trophy.
December 26th - 31st 2016
Germain Arena Youth 3 v 3 CROSS ICE TOURNAMENT AUGUST 20TH AND 27TH 2016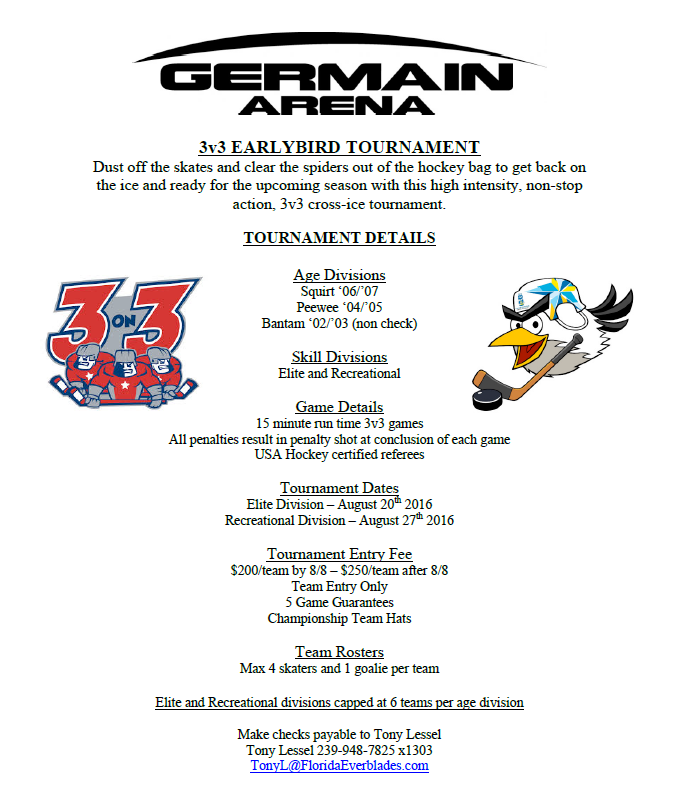 3 v 3 CROSS ICE TOURNAMENT          Elite division August 20th & Rec division August 27th
Squirts 06/07
Peewee 04/05
Bantam 02/03 – non check
Great way to prepare for the upcoming hockey season..
Contact Tony Lessel at 239-948-7825 x 1303 or tonyl@floridaeverblades.com
Elite August 20th and Rec August 27th
2016 Turkey Tourney Presented by Southeast Elite Hockey
Divisions: SQA, SQAA, PWA, PWAA, BTM A and BTM AA
Cost: Squirts $1300, Peewee – $1400 and Bantam $1500
Squirts 12 min periods, Peewee 13 min periods and Bantam 15 min periods
for more information please visit www.southeastelitehockey.com
November 25th - 27th 2016
For Additional Information
For More information about Hockey Tournaments at the Germain Arena Recreational Rinks contact: Tony lessel Hockey Director 239-948-7825 ext. 1303 tonyl@floridaeverblades.com